Traditional product from Transylvania
Luna Solai – suits your healthy lifestyle – is a premium Romanian brand of cold pressed oils.
The story of our products began in 1998 in Luna, a village at the heart of Transylvania. As you can see, the name of the village, which means Moon in Romanian, inspired the name of our products which include: sunflower oil, pumpkin seed oil and flax seed oil, as well as sunflower oil with thyme, basil, pepper or chilli and thyme.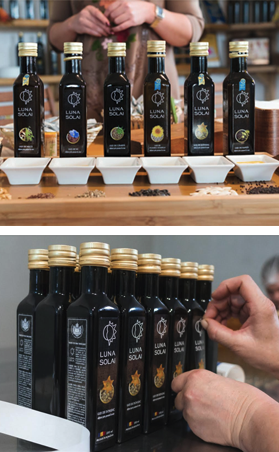 Passion for cold pressed oils
Luna Solai products are natural products made using cold pressing technology. The oils are produced from carefully selected seeds that are not subjected to thermal or chemical treatments, thus acquiring a high quality and taste. This technology preserves the wealth of nutrients, vitamins and minerals contained in the seeds.
Luna Solai's oils main characteristics are its their freshness, exquisite taste and quality


Check our You Tube channel for more videos with us.