Luna Solai cold pressed flax seed oil.
Luna Solai cold pressed flax seed oil (organic seeds). Also called "the elixir of youth".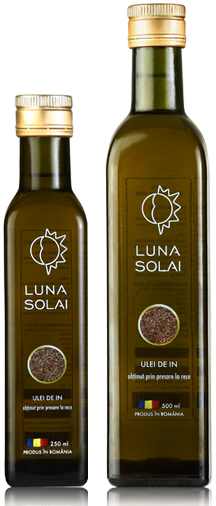 What is flax seed oil?
Cold pressed flax seed oil is made from brown flax seeds (organic seeds) and is 100% natural, with numerous benefits on health.
The technology we use (cold pressing) helps preserve the natural taste of the seeds, and enables a higher quantity of nutrients, antioxidants, vitamins, minerals, etc compared to all other technologies.

How do we recognize it?
Cold pressed flax seed oil is golden, having a spicy flavour reminiscent of freshly mown grass.
What does it contain?
Scientist believe that flax seeds and flax seed oil are the most important source of Omega 3 found in nature. Flax also represents an important source of fibres, proteins, folic acid, manganese, vitamin B6, magnesium, phosphorus, lecithin, zinc and copper.
Therapeutic benefits
Flax seed oil is good for your entire body, from the nervous system to reproductive system, with numerous benefits for you heart and circulation. It is also a high source of proteins that cleanse the colon and improve digestion, containing the amino acids that the body needs.
Flax seed oil also contains lignan, a substance with anti-oxidant effects, anti-cancer, anti-viral and anti-bacteria. Lignans help prevent many types of cancer such as colon cancer and breast cancer.
Side effects of flax seed oil: when starting to use flax seed oil some people may suffer from gas or bloating.
Use
Flax seed oil may be used in salads, sauces, pasta and all sorts of home cooked meals.
If you are considering using flax seed oil as a treatment for different illnesses, please seek medical advice.Warning! Pregnant women should not use avoid flax seed oil as it may cause premature labour or metabolic changes. Flax seed oil is not recommended for women who breastfeed.
Storage
Storage temperature: 15-20 Celsius degrees.
Once opened, the oil can be used for up to 12 months if it is kept in dry, cool places, far from direct sunlight.