Luna Solai cold pressed pumpkin seed oil
What is pumpkin seed oil?
Pumpkin seed oil is natural extra virgin oil made from raw pumpkin seeds. When used in cooking it helps maintain a balanced and healthy diet.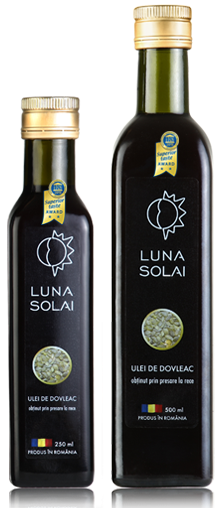 The technology we use (cold pressing) helps preserve the natural taste of the seeds, and enables a higher quantity of nutrients, antioxidants, vitamins and minerals when compared to all other technologies.
How do we recognize it?
Pumpkin seed oil has two colours at the same time: red and green. The green colour comes from chlorophyll and the red colour comes from carotene.
The oil is made from raw pumpkin seeds and is very rich in nutrients, has a pleasant pumpkin seeds flavour and a particular thickness.
What does it contain?
Pumpkin seed oil contains vitamins A, B1, B2, B3, C, E. Also, it contains a high degree of Omega 3, 6 and 9, also called healthy fats, and it has a very low level of saturated fats. The oil also contains ion, fluorine, iodine, potassium, calcium, copper, magnesium, sodium, phosphorus, selenium with records of its therapeutic benefits dating back to 1773.
Therapeutic benefits
Pumpkin seed oil helps eliminate intestinal parasites, unclog blood veins, maintain a good cholesterol level, stimulate kidney function and prostate function and it is very efficient in increasing potency in men. Pumpkin seed oil contains a high quantity of vitamin E and other substances that enhance fertility.
Pumpkin seed oil is very good for cooking. It can be used for salads, sauces, pasta, soups and all sorts of delicious homemade meals.
If you are considering using pumpkin seed oil as a treatment for different illnesses, please seek medical advice.
Storage
Storage temperature: 15-20 Celsius degrees.
Once opened, the oil can be used for up to 12 months if it is kept in dry, cool places, far from direct sunlight.