Luna Solai cold pressed canola oil
What is canola oil?
The oil made by cold pressing rapeseeds is a 100% natural product, very important for our health, especially if we use it in a health and balanced diet.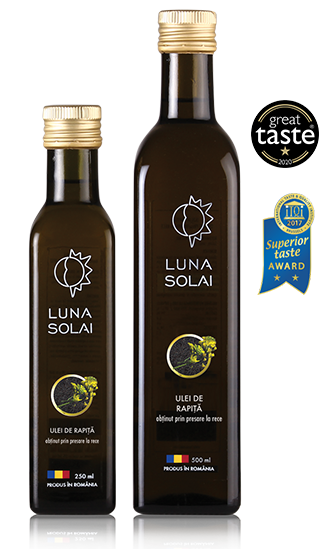 The technology we use (that of cold pressing) helps preserve the natural taste, and allows us to obtain a higher amount of nutrients, antioxidants, vitamins, minerals, etc, compared to other products on the market (either cold pressed or refined products).
How do we recognize it?
Canola oil can be easily recognized after its golden colour, its quite strong smell and its sweet, but slightly bitter taste.
What does it contain?
Rapeseeds have healing effects, good for scars. They are a natural disinfectant, and also have depurative, diuretic, emollient, expectorant qualities. Canola oil is rich in proteins, minerals (calcium, iron, phosphorus, potassium, sodium), fats, resins, vitamins (A, B1, B2, niacin, C, beta-carotene).
Therapeutic benefits
Rapeseed oil, or canola oil, is considered to have a thousand benefits. The secret of canola oil resides in the good fats it contains, which are crucial for a good health. This is a perfectly balanced oil, containing the ideal percentage of polyunsaturated acids ( Omega 3 and Omega 6) – 29%, and 64% monounsaturated acids, with only 6.8% saturated acids.
– If consumed regularly, canola oil suppresses excess triglycerides, having an anti-inflammatory effect on blood vessels.
– It helps reduce high blood pressure and cholesterol, preventing blood clots and reducing the risk of cardio-vascular diseases.
– It plays an important role in brain functioning, thanks to the fatty acids it contains, especially Omega 3, which helps prevent depression.
It is recommended to ask for the doctor's advice when using canola oil as medical treatment.
Recommendations for use:
Canola oil is excellent in warm or cold salads, blending in perfectly with the acidity of the lemons, with beef or salmon, roasted vegetables, asparagus, pasta or rice. However, do keep in mind that its qualities are lost if cooked (boiled or fried).
Storage conditions:
Storage temperature: 15-20 degrees Celsius
After it is open, the oil can be used for six months, if kept in dry, cold places, far from direct sunlight.