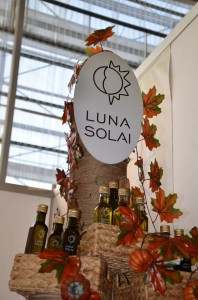 Elegance and good taste were the words that defined SIAL 2012, all suiting a healthy lifestyle.
Here we are, back home from Paris after a week in which LunaSolai oils could be tasted and evaluated at the International Food Fair, SIAL, Paris.
Elegantly presented, Luna Solai oils were present at SIAL, food innovation observatory in the world that took place between 21st -25th October in Paris.
Luna Solai was the only Romanian premium brand of cold pressed oils participating in this international event, proudly representing the Romanian flag.
Romania was present at the event with 47 companies and manufacturers operating in the food industry, many of them internationally acclaimed, while others were start up in business, just like ours.

In addition to Romanian officials, the Romanian Ambassador in France – Bogdan Muzuru, UNESCO Ambassador Nicolae Manolescu, representatives of the Ministry of Economy, Trade and Business Environment (MECMA), Ministry of Agriculture and Rural Development, LunaSolai oils were tasted and praised by businessmen from countries such as USA, UK, Spain, Czech Republic, Slovakia, France, Ukraine, China and Algeria.
Discover the new Luna Solai brand and give us a Like if you like what you see